We may earn commission from links on this page, but we only recommend products we back. Why trust us?
7 Best Patio Heaters of 2021
Stay warm outdoors year-round with these electric and gas heaters.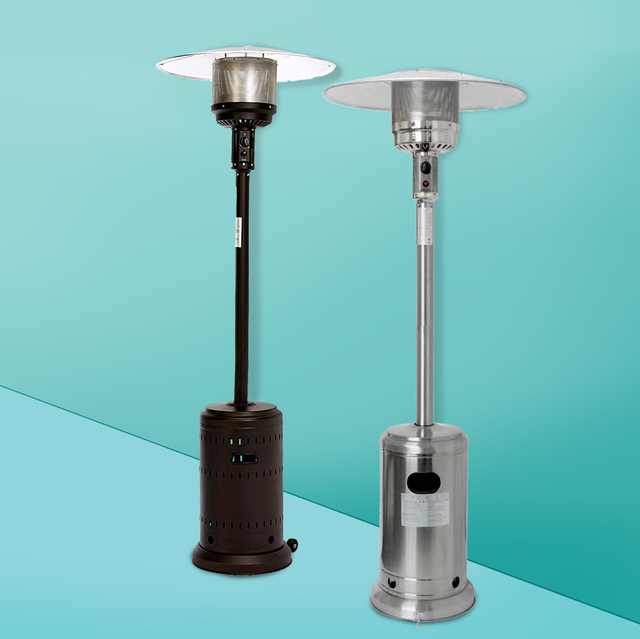 We updated this guide in October 2021 to ensure all products vetted by the Good Housekeeping Institute Engineering Lab, were in stock, available and correctly priced. These picks still reflect our top picks from our most recent test overseen by Chief Technologist and Engineering Director Rachel Rothman in December 2020.
---
A good outdoor patio heater can make hanging outside in cold winter months bearable and even pleasant. Patio heaters can help eliminate the need to bundle up or use blankets while sitting outside and keep exposed skin warm. They may also be a safer option than alternatives like fire pits if you have children and pets. But shopping for an outdoor patio heater can be overwhelming with so many options to choose — layer on safety concerns and understanding the technical jargon (what is a BTU?!), and you may be wondering if a patio heater is even worth it.

That's where the Good Housekeeping Institute comes in. Every year we test hundreds of items for your home including backyard staples like home projectors, outdoor grills, wireless speakers, inflatable pools and more. Our engineering experts find the best products that are actually worth your money to make your house comfortable and entertaining for you and your guests. To find the best outdoor patio heaters our Lab experts logged over 12 weeks of assembling and using heaters to find the best patio heaters for keeping you toasty warm. Due to an insanely high demand, our pros were not able to get our hands on every recommendation given below, and will continue to review models as they become available.
What type of patio heater is best?
The type of patio heater you need depends on your patio space and personal preference. Standing propane patio heaters are good for outdoor settings and can be moved to the desired location without having to worry about being limited by an electric cord. If you are using a heater in a partially enclosed space, electric heaters tend to be safer. Tabletop units are a good choice if you are heating a small area, like an outdoor dining table, and want to be able to tuck it away when finished. Some also prefer the look of propane heaters, while others prefer the electric heater designs.
Below, you'll find a mix of our top tested recommendations as well as highly rated and reviewed patio heaters. We also put together a guide on everything you need to know about patio heaters. Here are the best outdoor patio heaters you can buy:
Best Overall Outdoor Patio Heater
48000 BTU Stainless Steel Patio Heater
Hampton Bay
amazon.com
$189.95
This propane patio heater cinched the top spot in our tests for it's great heat output and quality construction. It produces 48,000 BTU and according to the manufacturer heats up to 200 square feet. It also has a control valve to adjust the temperature. We found the instructions easy to follow and assembly was simple, however, it did take about 45 minutes to put together, though this is common in many larger outdoor patio heaters.
Heats up to 200 sq. ft.
Powered by propane
Easy to follow instructions
Quality construction
Best Value Outdoor Patio Heater
Outdoor Patio Heater
Amazon Basics
amazon.com
$175.99
If you're looking for a patio heater that won't break the bank, look no further than this one from Amazon Basics. In our tests, it didn't produce as much heat as our best overall pick, but it still has a good amount of heat to keep you cozy in the cold outdoors. Assembly was also fairly easy and the construction is solid.
Less expensive
Heats up to a 9 ft. radius
Powered by propane
Good construction
Easy to assemble
Heat output could be stronger
Best Electric Outdoor Patio Heater
Outdoor Patio Heater
Dr Infrared
amazon.com
$159.00
$138.73 (13% off)
Though we haven't tested this in the Lab, with over 1,400 reviews and a 4-star rating, this is one of the most popular electric patio heaters. According to Amazon reviewers, this is perfect to cut through the chill and not overly hot. It can either be mounted to the wall or has the option to come with a tripod. Setup is minimal: just plug it in and it's ready for use and it comes with a remote control to adjust the heat. It's made with weatherproof aluminum but exposure to rain or moisture is not recommended.
Heats up to an 85 ft. diameter
Powered by electricity
Easy setup
Comes with a remote
May be costly with electricity
Best Pyramid Outdoor Patio Heater
Pyramid Stainless Steel Patio Heater
Living Accents
walmart.com
$379.92
Many outdoor patio heaters you'd likely want to bury in a corner, but this one takes the spot for the best design with its aesthetically pleasing look that you'll want to show off in front of guests. According to the manufacturer, it heats up to 500 sq. ft., however in our tests, it wasn't the most powerful heater out of the bunch, but it kept those closely surrounding it warm. It also has wheels so it's easy to move around.
Good design
Powered by propane
Adjustable heat
Wheels for easy moving
Claims to heat up to 500 sq. ft. but in our tests did not heat as well as others
Best Adjustable Outdoor Patio Heater
Infrared Patio Heater
Briza
amazon.com
$249.99
$199.89 (20% off)
Over 500 reviewers gave this patio heater 4.3 stars for its convenience, easy set-up and portability. Consumers were satisfied that it kept them warm, however many noted that it will not keep you as warm as a propane heater. The height is adjustable up to seven feet and while we didn't test this one ourselves, according to the manufacturer it's energy-efficient.
Powered by electricity
Heats up to 100 sq. ft. outdoors or 1,000 sq. ft. indoors
Easy setup
Portable
Not as strong as a propane heater
Best Portable Outdoor Patio Heater
Electric Patio Heater
Buyplus
amazon.com
$47.79
Though we haven't tested it in the Lab, over 500 Amazon reviewers gave this 4 stars. This portable outdoor heater is tiny but multiple reviewers commented not to be fooled by its small size, it still produces a good amount of heat. It should be noted most reviewers used it for themselves on their patios or garages and not in a group setting. It also has a fan-only option and extra-long 8-foot cord.
Small but mighty
Powered by electricity
Fan only option
Extra long cord
Best for single person use
Best Tabletop Outdoor Patio Heater
Table Top Patio Heater
Fire Sense
amazon.com
$149.99
We haven't formally gotten to put this pick to the test, nearly 500 reviewers gave this a 4-star rating making it one of the most popular tabletop patio heaters. It's small enough to put on a table and keep those nearby warm outdoors. It's made of stainless steel and has an adjustable heat setting. Because this unit is small it only has a one pound propane tank and reviewers commented that they went through the tank fast, but some worked around this by purchasing an adapter hose and hooking it up to a 20-pound tank.
Small enough to put on table
Powered by propane
Adjustable heat setting
Small propane tank
Can likely only heat a small area
What to know when shopping for an outdoor patio heater
✔️ Electric vs. gas. When choosing between an electric or propane outdoor patio heater, both have their pros and cons:
Electric patio heaters are easy to set up, move around, and most are safe to use in enclosed spaces. However, they must be placed near an outlet which is not always convenient and may cost more depending on the cost of electricity in your area.
Propane patio heaters do not require electricity so they do not need to be near an outlet. A high BTU (more on BTU below) patio heater also tends to be warmer than electric heaters. Take note though, they are generally not recommended for enclosed spaces and the tanks do require replacement.
✔️ Usage: Some patio heaters can safely be used on a covered porch and some can not. It's always best to check the manufacturer's recommendations on whether you can use the patio heater under a covered porch and how much clearance you need to use it safely.
✔️ Size: Consider the size of the unit when shopping for outdoor patio heaters. Some heaters are tall and need proper clearance for safety, so they may not be able to go under a covering. If you're going to be moving your patio heater around, you may want something smaller that can be easily carried or has wheels. Lastly, if you are only going to be heating yourself and not a group, a small portable heater may do the trick.
✔️ BTUs/power: You'll often see BTU when shopping for patio heaters and it stands for British Thermal Unit, which is essentially how powerful the heating unit is, so the higher the BTU the more heat you'll likely get. Look at the manufacturer's BTU recommendations for your size space. Also, keep in mind, it may be worth it to invest in multiple smaller patio heaters for targeted areas of heat instead of one big heater.
This content is created and maintained by a third party, and imported onto this page to help users provide their email addresses. You may be able to find more information about this and similar content at piano.io